Whim Parlour has an eclectic style for her in-home salon. She asked us to paint something on her garage door where her customers would appreciate her brand. This large image can be seen behind the Rahr-West Museum, adding to the many murals around Manitowoc.
Peter Rathanman, CEO of Allis Tool, was gearing up for his company's 70th Anniversary, which included a re-branding of his company to Allis Manufacturing. Peter bought the business several years ago, and has been driving excellence every since; and to be a part of that package, he wanted a mural on the side of his building celebrating the rich manufacturing tradition West Allis has.
This was in 2020, before the pandemic. When things were uncertain during the first stages of the spreading coronavirus we decided to put this project on hold. In 2022 started again. We met with Peter to discuss a design and he knew some key images he wanted. Allis Chalmers, the powerhouse of manufacturing in the early part of last century, needed to be included Peter had vast knowledge of the history of manufacturing in West Allis. "West Allis was the machine shop for the world," he told us. Peter wrote a nice article about the rest of the images here https://www.allismfg.com/news_and_events/mural-project-west-allis/
Peter has named this mural "Timeless Manufacturing", an appropriate title, considering the pride Peter, this community, and all of Wisconsin has for their history and contributions. We were happy to be part of this tradition.
Jan and Chad, owners of The Epicenter in Sturgeon Bay, approached us to paint the large wall of their 4th Avenue building. We collaborated and designed in the dead of winter and came up with a concept that was seen in the final wall image. On June 23rd, the lower portion of the mural was painted with the help of the community. All ages and abilities joined to paint their little piece of the wall that beautifies their neighborhood.
Door County Daily News has an interview with Erin here.
We were invited to be part of the 3rd Annual Mural and Busker's Fest by Downtown Green Bay's Broadway district. The past 3 years have created 30 murals and this past year there were over one hundred applicants. We worked with Stage 1, the venue where the mural can be viewed, and the Broadway committee, who owns the wall of the future Public Market, to come up with a concept, which the finished version can be seen below. 
It was a great Father's Day weekend, with live music on the stage along side us.
A group of students from The Algoma Venture Academy, a public charter school, approached Yonder to have us teach a mural class, with the final project being to paint a wall in our city. Throughout the winter, we prepared; mostly with the 8 students collaborating together to create a design. We started painting the wall in the alley just behind Yonder's studio. Later that month, we invited the community to come paint the rest of the mural with a paint by number. 150 of our neighbors came out to help and join in the fun and kick off the summer.
Yonder put on "Shadow Play – A Night of 4 Puppet Shorts by 4 Puppeteers" on March 31, 2023. It was the culmination of the hard work during a workshop given by Don Krumpos throughout the previous 2 weeks. Puppeteers Cecily Schleicher and Jill Iverson attended the workshop and produced their paper cuts to stories of their own design. That night, Don Krumpos performed "Bone Memory"; Cecily Schleicher, "Anansi and the Box of Stories"; Jill Iverson, "Love Can Make a Man Do Great Things"; and Erin La Bonte, "Flutter".
Students, ages 8 to 18, spent the day in our printmaking studio.  They were introduced to monotype printmaking and got the opportunity to create original, one of a kind prints by exploring different surfaces, painting and inking techniques.  These works of art were hand-rubbed or were be run through our etching press. 
Yonder printmaker Don Krumpos led this class and inspired students by sharing his work as well as techniques and the importance of process in printmaking.  
$35 per student includes all necessary materials
Due to space concerns this class is open to no more than 10 students.
ArtBeet Kewaunee is proud to present its 2nd Annual Youth Art Month (YAM) celebration throughout March 2023. Yonder hosted an exhibit as part of ArtBeet's city-wide exhibit at many of the art galleries across Algoma.
New Printmakers spent a night "out" in our studio.  They created original, one of a kind monotype prints by exploring different surfaces, painting and inking techniques.  These works of art were hand rubbed or can be run through our etching press. They brought inspiration and left with beautiful art prints. 
$45/per participant 
We will provide beverages, water, glasses, corkscrews, bottle openers, snacks, and supplies!
Due to space concerns this class is open to no more than 10 students.
Ages 21+
Course Materials and Links
This print out will give you some ideas on how to use a craft knife and strategies to make paper cuts.
We will be using overhead projectors as our performance area. The area is about 10 inches x 10 inches so generally, our puppets are small. They will be projected on a large screen, so that the audience sees these as 4 feet by 4 feet.
We will work on cinematic concepts that use wide angles and closeups and transitioning between scenes.
We will develop a story that is about 5-10 minutes long for each participant. The narrative can be loose and surreal or follow a literal narrative. You may come with your own ideas, or, if you're having trouble of thinking of ideas, we will look toward mythology and fairy tales to borrow from. An example is looking at the work of Hans Christian Anderson. He even has a story about Shadows!
Your puppet short may have voiceover/narration, or music, or none if you prefer.
If you have your idea, you can write your narrative, and storyboard. Here is an example of one that I did for a 3 Act performance in 2019.
It is not fancy, in fact it is pretty sketchy, but it lets me get my ideas from my head to paper to free my mind to work on cutting referencing my rough composition.
The Wikipedia entry on Java shadow theater and its many branches and expressions.
Karagöz is a Turkish shadow theater in which puppets of characters and objects made of camel or ox skin are held up to a light with sticks to project their silhouettes onto a cotton cloth.
The Wikipedia entry that briefly talks about the traditional shadow theater of Turkey.
The best example to talk about animation using cutout paper silhouettes and shadows is Lotte Reiniger.
This German artist was a pioneer of animation in the early and mid-20th century. Lotte used resources from the traditional shadow theater of the East and combined it with the openwork silhouettes of Europe.
"Lotte Reinigers silhouettenfilm: Die Geschichte des Prinzen Achmed"
Booklet of the premiere of The Adventures of Prince Achmed .
Beautiful short film from the 50's that uses silhouette animation to tell a popular Christmas story.
Another magnificent short film from the 50's in which you will be able to appreciate the talent and originality of Lotte Reiniger.
"The Art of Lotte Reiniger, 1970 | From the Vaults"
A short documentary where she is seen working on her works.
"The Adventures of Prince Achmed"
The Wikipedia entry for The Adventures of Prince Achmed
Shadow Puppets, Shadow Theaters and Shadow Films | Lotte Reiniger

This is an unmissable book by Lotte Reiniger where she explains in detail all the resources of shadow theatre, from minimal scale to her own shadow animations. It was published in 1975 and a digitized version can be borrowed at Archive.org.
This company has been producing shadow theater in San Francisco since 1972. Here you can see images of some of their productions.
This is the first professional modern shadow theater troupe in Japan and has produced several plays that bring people into the world of theater, inventing original dramatic styles that modernize shadow play. I share an interview with Shuichi Iida so you can learn more about this Japanese shadow theater company.
Interview with Karl Johnson, a contemporary silhouette portrait artist.
A book about the history of shadow silhouettes by Emma Rutherford.
An incredible shadow theater production that combines actors, silhouettes and projections on a large-scale tableau. In this video they show many details behind the scenes.
A small production by the brilliant company A la sombrita that uses the space in front of the altarpiece and leaves the actors visible.
The review of an installation of light bubbles on which shadows were projected devised by Lucion Media. This is another creative use of projection space.
A brief review of the work of Christian Boltansky that refers to the traditional resources of shadow theater.
A theater group out of Chicago, but that performs across the world, using many of the same methods we use in this course and for our performance.
Artist Workshop
Schedule: 2 classes 
Ages 12 and up
Saturday, March 18  9 am-2 pm
and
Saturday, March 25 10 am-4pm  
Public shadow puppet performance beginning at 5 pm March 25.
Workshop Price:  All supplies will be provided.  Yonder will order pizza on Saturday March 25th for all participants.  Please bring your own snacks, lunch and beverages.
Adults: $200
Artists under 18: $100
Class Limit: 10
Workshop Description
Puppeteer, Don Krumpos, will share shadow puppet history, storyboarding and process as well as technical craft. Students will create their own shadow puppet short animation (about 5 minutes).   Creative work is encouraged outside of class time to refine their performance.  Students will work collaboratively and perform their puppet show on March 25th at 5 pm in a public performance hosted by Yonder.  All artists, students and professional artists, ages 12 and up are welcome!
Due to space limitations this class is open to no more than 10 students.
Since this course has a lot of material put into a small amount of time, we have prepared some material for you to look at ahead of time.
Once you've signed up for the course, you'll be sent additional course materials to start early, and between course dates so that we can make the most of our time together.
SeaGrant is 50 years old in 2022. To mark this occasion, they decided to have a mural painted by Wisconsin Artists. Sturgeon Bay was selected as the location for the mural. We worked with Jody Henseler, as a member of our team to provide scientific perspective about Lake Michigan and help infuse her passion for the water into our work.
A video by SeaGrant's Bonnie Willison can be seen here.
It was a beautiful day in the neighborhood as Manitowoc Sputnik Fest attendees came by to help paint the mural on First Presbyterian Church. Pastor Matt Sauer wanted a Mister Rogers-themed mural on his wall, since Mister Rogers was a Presbyterian minister and the "closest thing we have to a saint" he said. Pastor Matt has a giving and inclusive organization, so the mural was to display this idea to the traffic as they are heading down the hill into downtown Manitowoc.
The Sturgeon Bay Historical Society with their hard work in preserving the Teweles and Brandeis Grain Elevator, wanted a mural paying homage to the Sturgeon Bay's agricultural roots. Bayside Bargains , which is across the street from the grain elevator, allowed us to paint on their wall. The historical society knew they wanted to represent the agriculture heritage of the water to the land so we went about designing a concept that included their famous steel bridge, a wooden clipper ship, that would haul the seeds to the granaries, and in the center, the seed itself as a center point, and then a transition around the wall to a pastoral land with rolling hills which Door County scenery did then, and still does abound in. This was also  a paint-by-number mural in which the community turned up to finish painting the lower half.
Here is an interview by Door County Daily News about the process.
We were invited by On Broadway to participate in their Second Annual Mural and Busker's Festival. They wanted a food-themed mural and with knowing about their renowned farmers market, we wanted to include foods and flowers that would be found during harvest season in Northeastern Wisconsin. We included some butterflies to indicate the importance of these pollinators in the food growing process.
We invited David Carpenter a usual partner, and Gabby Krumpos, an emerging artist and designer to help us complete this large artwork in the required 4 days. David's impeccable skill would help render the vegetables to realistic perfection, and Gabby is an up-and-coming mural artist, and they will help with two other murals later this year.
Erin and Don came out a couple nights early to project the outlines, and we met some of the local business owners already on this hot July night. The next day, we painted in some of the higher background areas, to get them out of the way. It was Wednesday, so we got to visit the farmers market for a little while.
Thursday was the official start and our team was assembled. Every day in the morning and before we left, we would drive or walk to see other nine artists working on their mural. Saturday and Sunday, were the days that the Festival occurred so the buskers and musicians were out in full force and we got to meet some wonderful people. Old friends stopped by to see the spectacle; and it was a reunion of sorts.
We completed the painting just on time, on Sunday about 4 p.m. This event will end up being one of our best memories of mural painting because of the energy and camaraderie surrounding us.
We were contacted by the City of Fond du Lac Downtown Committee.
Saturday March 26th 9-4 pm 
Students ages 10 and up spent a day in our printmaking studio learning the art of creating a linocut relief print. Participants began by learning what makes an ideal image for printing. Students then used gouges to form their linocut, roll on ink and pull their original work of art using hand-rubbing techniques and our etching press.
Yonder printmaker Don Krumpos led this class and inspire students by sharing his work as well as techniques and the importance of process in printmaking.
$50 per student includes lunch and all necessary materials
Due to space concerns this class was open to no more than 9 students.
This class was offered in collaboration with Art Beet's Youth Art Month's Initiative.
Register at https://printmaking.bpt.me
We couldn't say it better than our friend and attendee Alex Galt over at his blog.
I saw a beautiful thing a couple of weeks ago and I wanted to tell you about it because, by its very nature, I can't share it with you. And maybe that was the point. These days the accepted thing is to seek virality, maybe to put your spin on a meme and to send it out into the world hoping for a million views. Because attention is currency and it's come to be how we place value on things. What I'm about to describe is on the opposite end of the continuum from whatever Kim Kardashian West is doing. Imagine working hard to create a layered and beautiful artistic performance that will be seen and enjoyed by no more than 60 people. I mean, what would be the point? Right? I'm talking an original story with elaborate props, costumes, shadow puppets, simulated stained glass windows, stage sets, food, and giant papier-mâché hands. True, the audience to effort ratio for the performing arts is much lower than for other media, due to their ephemerality. For example, I have a college friend who is a relatively successful playwright in New York and it's been almost impossible for me to follow his career from my home in Wisconsin. But what I'm about to describe feels like it was specifically designed to be immune to digital virality and, in retrospect, I think that's part of why I found it so thrilling.
Yonder and the Krampus
On a Saturday evening in early December, Don Krumpos* and his team presented "Krampus Claws Is Coming to Town" at Yonder, Krumpos' art gallery and studio in Algoma, Wisconsin. Using a blend of storytelling, shadow play, illustrations made from simulated stained glass, and immersive theater, Krumpos and his troupe told an original story using elements of the German and Icelandic Christmas folk traditions. First, there was Krampus, St. Nick's horned and bearded co-worker, who has been punishing the wicked children of Germany for centuries. This Christmas, Krampus discovered that morality is not as simple as black and white, that 'bad' kids are sometimes good kids in bad circumstances. Initially he's perplexed by this moral ambiguity, but by the end of the show he's taken it to heart and found a new role to play during Christmas. Then there was Gryla, a giantess who traditionally punishes the misbehaving children of Iceland with the help of the "Yule Lads" and her terrifying Yule Cat. (Apparently Iceland has a more interesting Christmas season than we do). In Yonder's retelling, Gryla and her minions have been locked beneath the earth for a thousand years, bound by magical spells cast with air, water, and fire. And these bonds are weakening…
Enter the audience
"Krampus Claws" was divided into three acts with an intermission between each act. As the audience mingled and consumed Krampus-inspired snacks, treats, and ciders (both hot and alcoholic), costumed members of the troupe pulled individuals or small groups of people to visit with the spirits of water, air, and fire. Each of these experiences, which were elaborately presented in smaller spaces, yielded a token: a rubber "fireball," a kazoo, and a small water pistol. Participants were asked to hang on to these and to keep them hidden. In the third 'act,' which was primarily conveyed using shadow puppets, Gryla and her brood slipped their bonds and prepared to wreak havoc on the children of Earth. But at the last minute they were turned back by Krampus, freshly motivated by his new, more nuanced moral understanding. In fact, he has come to see that it's now Gryla who is misbehaving and in need of punishment. Finally, Krampus and the narrator of the story rallied the audience to defeat the Icelandic folk monsters, including the Yule Cat, with their fireballs, kazoos, and water pistols. Thus, another merry Christmas was assured and the balance of the universe maintained.
Nothing I write here (not even Joshua Clark's photos, though they tell part of the story) can convey the sense of wonder that this production produced in the audience. We collectively gasped and laughed as all of the elements of the production converged at the end. Elements that may have felt absurdist and a little off-handed at the time were revealed to be dramatically important. It all felt cathartic and almost ritualistic… but without any of the self-seriousness that things too often have this time of year. As with everything Krumpos does—working alone or with his co-conspirators—from his beautiful prints to the murals he's been painting in communities all over Wisconsin, every aspect of the event was beautifully detailed and well considered. This year's Krampus costume was feral, like something out of a deep, medieval Alpine forest, and in an entirely different way than the equally beautiful Krampus figure he designed for the 2019 show (which is currently on display at Yonder's storefront at 321 Steele Street in Algoma). The shadow puppets, which Krumpos has been experimenting with since producing a workshop with Minneapolis's Michael Sommers, co-founder of Open Eye Theater, at UWGB seven years ago, were intricately cut and full of playful effects.
This is a type of experience that feels rare to me to me these days, it reminded me of a culture of artistic production that was more familiar to me in my 20s—back in the 1990s—long before the potential for virality demolished the idea that a thing could be done just for itself and just for the people fortunate enough to be in the room. That it was so creative, so well executed, and so beautiful just made it all the more precious. Krumpos says that these Krampus pageants (for lack of a better term) will continue… you should make a point of getting on his mailing list so you don't miss out!
* Who is Don Krumpos? He is a muralist, printmaker, and multimedia artist who has been an art professor at the University of Wisconsin—Green Bay.
This mural was commissioned by the Community Improvement of Algoma in one of their "pocket parks".
We had the opportunity to design the poster for the 100th Anniversary of the Capitol Civic Centre in Manitowoc, Wisc.  Thanks to Lori Kirby, the marketing directory, to provide the guidance to get this done in the style that we liked, and that their board was delighted in.
This idea was conceived in the mind of City of Manitowoc Water Treatment Facility employee Scott Krause in 2015, and in 2020 this painting came to life, after the City of Manitowoc came to us to paint this image of a rainbow trout on their giant gas sphere painted to look like a giant bobber. 
Let it exist to delight visitors after they arrive from Michigan on the USS Badger ferry, and add a splash of color to an heterotopic, industrial area.
Thanks to Hallman-Lindsey for paints and Hamann Construction for the donation of the lift.
We enjoyed doing this mural
Bone Memory was a shadow puppet short performed at Yonder on October 4th, 2019
Deborah Maris Lader is a Chicago printmaker.
Nick Utrie is a Green Bay musician.
Woodland Dunes is a nature preserve in Two Rivers Wisconsin. They asked us to paint a mural on the old barn on the property that when visitors drove in, it would be one of the first things they would see. It included some flora and fauna on their land, such as a saw-whet owl, turtle and fox.
The Force was with the printmaking studio this week when artist/printmaker Sean Star Wars brought his woodcut funhouse to Green Bay. He and his family drove up from Mississippi at the request of UWGB's Art Agency to give an artist talk and lead a workshop.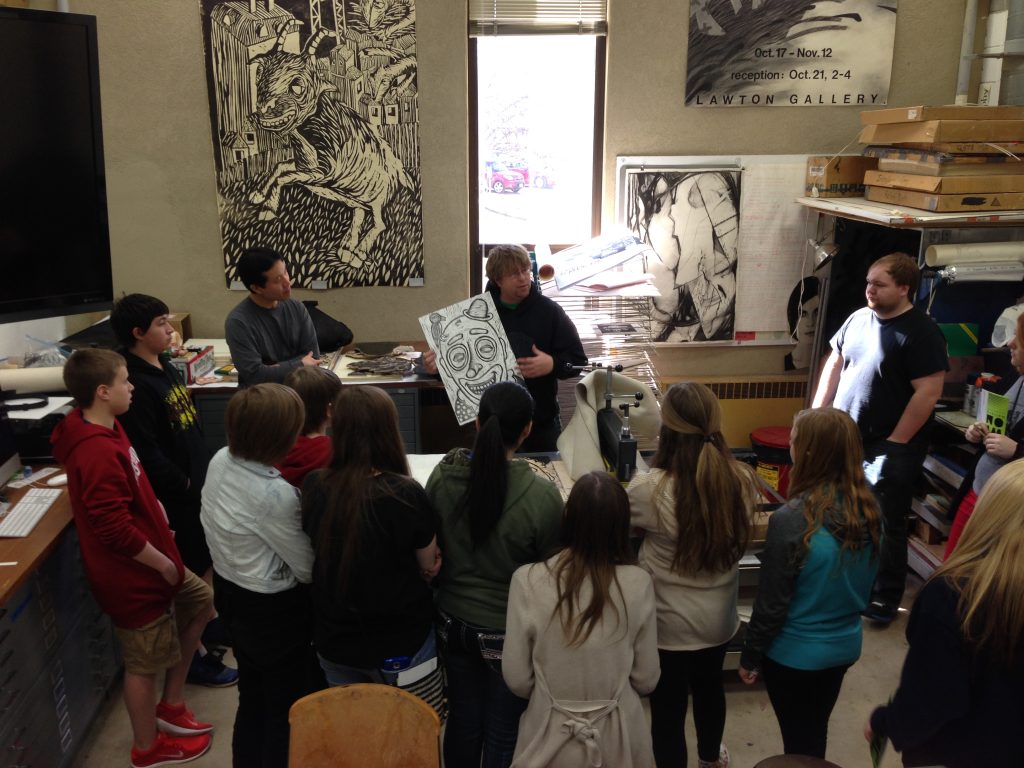 Sean Star Wars artist talk showed much of the inspiration for his work. He received a boost of confidence, when one of his idols, Tom Huck showed that a graphic artist could hang in museums and galleries alongside "fine" artists so he pushed forward with his passion.
He gets inspiration from vintage advertising, the kind that incorporated white families posing as Native Americans and promoting cigarettes. He also has a series of work about Jimmy the Pope, an invented miscreant who develops superhero powers and smokes. He looks to an accidental acquisition of a different family's slide collection circa 1972.
The students were inspired by the amount of work he is able to make and that the more quantity he cranks out, the more quality he necessarily gets from the effort. It was great to see the printmaking studio come alive with images and wood shavings.
I was fortunate enough to get to meet local artist Dawn Patel and she invited me to hang some of my art work at the Luna Gallery. I decided to make some new pieces, as I often like to do for each new show. This way attendees get to be the first ones to see them.
I made three more etchings and one new assemblage box. It took me a few days to make the etchings and about six days to make the box.
I try to not let too much be shown in the digital format, such as here on this website. My intention is to have the viewing of this artwork be a real, physical and textural experience. That is one reason that I choose printmaking as a medium, because they look so different when in person and the work can be intimate with the viewer. That's also why only a sampling is shown.
I am considering selling giclée prints though, as I have some poor lucky selling the original works. Though they get a lot of views and "likes" the sales are dismal. My thought is that the price is too high. Though the idea giclée prints has been less tasteful to me than original works and authentic experiences, I also want to survive as a working artist with out bending my principles too far backwards. I wanted to be part of the change I want to see in the world, and be ahead of a trend that I wanted to happen; that being people will start searching for an authentic life to replace the fast-paced, herd-mentality that seems to be growing for better, or for worse. The solution, I thought, would be original, thoughtful works of art to be part of people's lives, and also outdoor/nature experience that were less cultivated than the shopping mall/sub-development habitations that cause me dread for some reason.
What you think about this? Should I make giclée prints? to sell at far lesser prices than the original works? I will not stop making original works of course, I just want to know if that would be "selling out".
The last few paragraphs were a digression from the exhibit. Anyway, I would love for people to visit the work in person and if you go and would like to meet up over a Luna coffee to talk about art and life, I would be delighted.
Here are some more photos from the exhibit.
Finally, I wanted to include my artist statement for the show. I am constantly tweaking it for each new exhibit. I would like to know what you think
Terra Incognita
I recently had the chance to come back to my hometown after being away for a few years, which allowed me to pause and contemplate my boyhood nostalgia. Many of the sights and sounds of this place has triggered deep and specific memories, but now that my childhood farmstead has been sold off, I cannot not go back to the physical place that offered me inspiration as a child, and which informs much of what I do as an adult.

This current body of prints and paper tole, and perhaps the entire scope of my work, is my own terra incognita fantasy realm to re-create and perpetuate the adventures of my youth, yet also consider the destruction of farmlands through progress and development, the busy-ness of our culture, the lack of reflection upon agriculture, and other cultural vexations.

Each work is a map that navigates my yet-to-be-named terra incognita, in elegy to comfort the pain of nostalgia. The inability to "go back" strengthens both the fantasy and the myth.
I received a text message in March from my good friend Chris Rand's wife, Tamara alerting me to a surprise 40th birthday for Chris. She also asked if I could make a piece for him since he and I always appreciated each other's work. I easily agreed, and since one mantra of Chris and mine during undergrad was "go big or go home", I decided to honor him by making the largest etching I had done to date.
This was good timing, as I was just tossing around ideas in my head about a new body of work to coincide with my Faerie (working title) series. I wanted to expand upon this idea with imagery of landscapes in this fantasy setting; Whereas the Faerie series is from a natural historians documentation, these new, larger prints would a tableau including narrative elements. This is all inspired by my, almost, daily walks in the woods behind my house, where I find myself getting elegaic for the similar setting of my childhood, which included many similar walks. If I had to zoom way out, I would explain this work as a sense of place and a search for identity. I'll get into more of that in another post.
Having all these ideas and sketches, I decided to go as large as I thought I could for my current studio using a copper etching. I was to use a 22×30 inch Rives BFK but also have this fit in a horizontal acid bath I would fashion out of photography chemical tray. I decided on 16 x24 inches for the copper plate. This let me work on the sketches at that size and I followed my usual workflow.
The main problems came with the acid. Using a horizontal tank without the right supplies to dunk and lift the plate was treacherous. I also had to use spray paint aquatint because rigging up an rosin box big enough didn't seem worth it. With a few mis-steps in the aquatint I still believe the plate came out nice and the final print made me happy. Let me know what you think.
The title of this print is "Disenchanted Forest I: Christopher Renegotiates the Social Contract", which again is a title which honors interests that overlap between me and Chris. I debuted this print at his birthday party, which was a dress-up costume party, since it was the day before Halloween. To honor the interesting person Chris is, I decided to "go big" on my costume as well. Let this photo show the evidence.
Wayne State University in Detroit was this year's host for the biannual Mid America Print Council Conference. For print enthusiasts within a 500-mile radius of Midwestern soil (or beyond, I suppose), the MAPC conference is a weekend-long binge of printmaking delights.
I've had the idea to use paper tole for some projects for a very long time and when Kit Leffler asked me for one of my box tableaus for a toy-themed art exhibit at Open Eye Figure Theatre, I thought this would be an opportunity to finally employ it.
Paper tole is a 3-dimensional picture is created from a number of copies of the same 2-dimensional image. Parts are cut from the prints and layered up to create the final image. I have always thought printmaking was perfect for this, since I could cut up my multiples and still have all the original works of art. They would look so textural as compared to making printouts on an ink jet.
The final component I wanted to work in was my increasing interest and use of tarot/alchemy/zodiac imagery in some sort of radial format inspired by Peter Apian's Astronomicum Caesareum.
What you see here is the final image. I hope to do many more of these in a variety of formats and sizes and with a variety of found objects.
I recently had the opportunity to head down to Manitowoc by the invitation of Berel Lutsky, Professor of Art at UW-Manitowoc, to print a 40×60 inch wood relief block under the pressure of a steamroller. About 45 artists participated in this event, and the resulting work will be exhibited at the Rahr-West Art Museum and Hamilton Wood Type and Printing Museum. We started coming up with ideas months ago and began the carving earlier this summer. My friend Katie Ries, art professor at St. Norbert College, collaborated with us on a large-scale print depicting a trio of invented Saints of the Fox River.
Though more popularly known for its sacred football landmarks, Green Bay happens to be situated in proximity to a number of gems in the realm of printmaking. I embarked on a few excursions to these sites with students both in the fall and spring semester.
UW-Green Bay's Art Agency had the exciting opportunity to host Minneapolis-based artist Michael Sommers for a for a three-day workshop and performance March 27-29, 2014. Mr.Sommers has created a niche following in the Twin Cities, mesmerizing and delighting audiences with a cross-roads of puppetry, shadow theater, hand-crafted animation, performance art and Vaudeville-esque monomyth storytelling. The Art Agency was delighted to bring some of that magic and marvel to Green Bay area art lovers.
Mr. Sommers led students in workshops on March 27th and 28th to expand their current thinking and making of two-dimensional images using concepts of space, time, and play to animate through the gesture of human touch. The workshops culminated on Saturday, March 29 with a public exhibition and performance of the students' work at Kavarna in downtown Green Bay.
Beyond facilitating the event for the students, I was able to make my own shadow theatre. For your viewing pleasure: "The Alchemist's Indigestion"
The weekend was the highlight of my tenure at UWGB. I hope to continue doing more of this type of theatre and art.
I also want to thank my friend, Joel Ryan for doing music for the night; and Chris Rand for taking photos and video. Thank you to everyone, especially Alex Galt at Kavarna, that was able to make it and support the event.
This body of work was created for the University of Green Bay's Lawton Gallery. I was invited to participate in the Faculty Exhibition curated by Dr. Stephen Perkins and decided to create seven etchings as shown below.
I started this imagery for an group exhibition curated by Adam Martin for CO Exhibitions in Minneapolis, where I got to hang next to the likes of Edie Overturf, Jennifer Murray, Aaron Horkey, Joshua Norton and the like. I was very grateful to him to invite me.
Below is a selection of five of the 7 images from the series.
Here they are hanging on the east wall of the Lawton Gallery. I was grateful to be asked to hang in this exhibition.
Michael Barnes
David Becker
John Buck
Sean Caulfield
Jean Roberts Gueguierre
Tom Huck
Teresa James
Karen Kunc
Beauvais Lyons
Jenny Schmid
Leif Goldberg
Chris Hipkiss
Matt Leines
Xander Marro
Doug Minkler
Caroline Sury
Mike Taylor
Daria Tessler
Erin Rosenthal
Aesthetic Apparatus
Desert Island Brooklyn
Dignidad Rebelde
Hatch Show Print
Little Friends of Printmaking
Just Seeds
Le Dernier Cri
PictureBox
Space 1026
The Dirt Palace
Tiny Showcase
We just had the opportunity to travel to Chicago to view some art. Here were some interesting things.
Smart Museum at the University of Chicago
"State of Mind" – New California Art Circa 1970
Barbara T. Smith
Allen Ruppersberg "Al's Grand Hotel"
Eleanor Antin
Bruce Nauman
Sol LeWitt
John Baldesarri
Chris Burden
Linda May Montano
Bonnie Ora Sherk
Printworks Gallery
Ann Nathan Gallery
http://www.annnathangallery.com/
Carl Hammer Gallery
http://www.hammergallery.com
CJ Pyle
Bill Reed
Albert Zahn
Met and talked to Carl Hammer. Represents outsider artists and Chris Ware among other. Talked about Albert Zahn's bird Park in Bailey's Harbor — a must see.
Catherine Edelman Gallery
Gustavo Lacerda (artist) "Albinos"

Other
We met with friend, Christopher Cannon. He is now making toys which are pretty incredible.
Kaboom Toys – Christopher Cannon
He also mentioned looking at Laurent Durieux posters http://www.laurentdurieux.com/#item=soundwave Very cool stuff.
Welcome to The Sideshow, a new etching series of etchings that depict a ragtag band of misfit performers who meander through ambiguous storybook scenery. The whimsical imagery in this print series hearkens back to the children's book illustrations of the artist's formative years, but this time with a more mischievous (and cynical) spin.
This series was created for Highpoint Center for Printmaking's Threshold Gallery during the summer of 2013. Below are the 6 prints from the show.
The Flyer is an example of an imagined creature made with found objects. The antique pulley in his back made it easy for him to move back and forth across the collections room.
I had to answer the question, "Why Printmaking" for myself, as why this is an artform that I prefer. I knew I enjoyed it, but it was important for me to define why.
I like all art forms, such as drawing, photography, sculpture, etc, but when it came to something that I wanted to focus on, printmaking stuck. When I pulled my first drypoint in middle school, it was love at first site. Back then it was the aesthetic, but now it has come to mean much more; and I will try to explain this.
The Aesthetic of Prints
Prints just look cool. Some people think they look like drawings, and some people think they look like paintings. The idea that you can make it look like one or the other or a little bit of each is exciting. For me, I believe it is the limited nature of the print that makes them appealing.
Back when printmaking started to be a viable communication method, it provided huge possibilities of new technology and mass distribution (I will get to this later). Now in the age of photo-mechanical processes, and digital processes, prints can look archaic; but archaic in a bad ass sense. The limitations that the matrix can provide appeal to our aesthetic sense of being able to see the use of the human hand. I believe this is deep in our proto-brains and part of our evolution.
For example, a relief wood block carving; an artist can only get so many tones from it, and we have to relinquish some of our control to the wood. That is not to say that masterful things can't be done in wood, but it is the visible touch of the human hand that makes it so admirable. At the point where people start to get their woodcuts looking like photographs (I see this being done), it loses something; je ne sais quoi. If I read "wood relief block" on the didactic, I say "wow" to myself and to anyone I'm with, but I really want to say "let's not forget the gritty, graphic look and love that too".
The process of making a print is also a thing of wonder. There can be a lot of planning and preparing and documenting of steps. This is something that most printmakers love. I do. There is craft that is involved that some of us really enjoy.
This makes me seem like some sort of anachronist or luddite. Indeed, I probably am much of both of these, but let it be known, that I do admire digital art and photo-mechanical processes or anything pushing the boundaries of what a print can be. I am simply explaining why I think people find printmaking beautiful; moreover, why I find it beautiful.
Going further into my anachronistic streak; I do find old things wonderful. So I always gravitated to making my etchings on paper that was off-white to tan, as if it were aged, and using sepia and earth-toned inks. I also classify this as a nostalgic sensibility of mine. I collect old material culture, especially antique works on paper so this fits right in with that. Printmaking is just the old-fashioned way of mass-production of the works on paper that I enjoy.
The Mulitple
The idea that I could make many copies and iterations of my artwork was appealing. Not only could I make more and get more in the hands of art lovers, but I could make a few of one state make some changes, and print off a few more. These states of the evolution of a print are wonderful; and something that other mediums don't have. These states are connected and have a genealogy of their own. The plate has a history and this story can come out in the artwork.
This allows me to give copies to my grandma, my friends, and still hang the same print to an art gallery. Prints transcend the boundaries, of fine art, low art, graphic art, commercial art, illustration, works on paper, and craft. And still these objects are unique works of art. Art and objects and messages that I can get before more eyeballs.
Now one could say the same thing about a digital art that is on a screen. There is no way to get more views than on a screen (for now). This is true. The mass distributing nature of messages over bits and bytes is powerful; however, when one holds a print in their hands, and can see and touch the texture and see the ink pressed into, or rising up off the page, there is truly no substitute. The experience of the hand touch cannot be simulated on the screen. Us printmakers are calling for a slowing down of enjoying art; where the viewer must come in person and have a truly authentic and intimate experience with the artwork and a connection to the artist.
The Revolution
The concept of the multiple is also revolution. The history of printmaking is the history of disruption. In fact the first modern printmaking; the Gutenburg movable type printing press, kicked off the upheaval of the strongest institution in our history: The Catholic Church. The Church in 16th Century was going through some rough times of their own doing, something that many people were upset about, and which many people were killed over. The distribution of tracts and posters; of images that the illiterate could understand, all helped bring about this change. This new graphic medium is something that everybody could understand.
This is why printmaking is the Everyman's Medium. It gave a voice to those that didn't have one at that time. The power of the pen was only so good if you could not get the message out to a mass audience. This is why Northern Europe prevailed over the Italian regime. It was able to capitalize on this idea. The images were simple and to the point; they could be "read" by everyone. This vernacular messaging is still alive today.
Printmaking has a similar story of disruption in the centuries since. It has represented the voice of the people. Goya's "Disasters of War" are seen as a protest to the violence of the Spanish Civil War. Otto Dix vividly portrayed the horrors of The War to End all Wars. In some cases printmaking was instrumental in changing the tide towards the revolution, in other cases it provided awareness of the inequities that were happening. The people were made aware and brought together to form upheaval against intolerant regimes.
Of course in the 20th Century, advertising caught wind of this powerful tool and the aftermath is still filling our mail boxes to this day. The shift of the disruptive power has moved to the Internet. I feel that the Internet is the new printmaking and is the most powerful democratic movement thus far in our history. Printmaking was the forebearer. Both mediums have been, and are being, co-opted by strong and wealthy messaging agents, but this is where I feel artists can step in to keep messaging in the hands of The People. It is this tradition that I am proud to be a part of.
Make Yours
If you have not tried printmaking yet, I encourage you to do it. Making things with your hands is empowering; something that I am a big advocate of. I hope I have made that clear in the above statements. Please leave a comment if I can be of assistance in any way.
I was very fortunate to get to travel to Florence, Italy for a summer and study art. Below is a book I made while at the Santa Raparata International School of Art using printmaking technique, ink, watercolor, found objects and paper.
Below are the pages of the book.
Tesserae de Hodiernis was a solo exhibition curated by Sonya Flaherty Wiegand at Abotzo Gallery in Two Rivers, owned by Kevin Voysey and Jason Prigge. I used this opportunity as a second Senior Thesis, but this time concentrating on printmaking. I was privileged to have so many friends and family show up to this show to view and discuss my artwork.
I am also grateful to Sonya for inviting me to exhibit. Joseph Knaapen provided whimsical and thematic music on the piano and guitar.
Below are a few of the 8 images from the series.
The Jabberywocky Clockwork Insurance Company is a series of etchings I created in February of 2006. The imagery follows a loose narrative of 6 employees of a fictional storybook corporation.
Below are a sampling of the images.
Things I am interested in:
carnival, circus, Victorian, Steampunk
industrialization
modernity
Kafka
Kafka-esque
ennui
nostalgia
chagrin
absurd
cute
creepy
stitches
existentialism
characters
animals
anthropomorphic
fairy tales
folklore
menagerie
farm
machinery
farm machinery
mechanization
gears
clockwork
inventions
exploration
The Enlightenment
robots
airships
Victorian fashion
gas light
steam power
hat box
antiques
whirligigs
whimsical
wheels
Grammaphone
gauges
boats/ships
submersibles
dirigibles
Turn-of-the-century science
protoscience
typewriter
wood type
freak show
navigational instruments
maps
telescopes
astronomy
alchemy
phrenology
occult
chiromancy
pseudo-science
Nikola Tesla
Tesla coil
oscilloscope
optical devices
optics
diving gear
laboratory
organ grinder
rivets/screws/texture
goggles
cabinet of curiosities
trapeze
balancing
tight rope
brass
port hole
grotesque
magic lantern
cibachrome print lightbox
post-WWII mores
capitalism
socialism
economics
traditional family values
evolutionary biology
rabbits
petticoat
frock coat and tails
bowler hat
top hat
bio-mechanical
farmland
barn
farm animals
Alice in Wonderland
Arthur Rackham
John Tenniel
Lewis Carroll (Charles Lutwidge Dodgson)
J.R.R Tolkien
coal power
iron
Columbia World Fair
Crystal Palace
Jack the Ripper
Sherlock Holmes
Charles Dickens
Edgar Rice Burroughs
Dr. David Livingstone
paleontology
wunderkammer
woodworking
cabinets
paper craft
paper engineering
stage craft
tubes
glass vessels
spy glass
helm wheel (ship's wheel)
nautical apparatuses
pop-up books
book binding
bird cages
wire forms
dress forms
Victorian wallpaper
numerology
harlequin pattern
stripe pattern
hexagons
chains
old tools
collecting
bric-a-brac
bricolage
detritus
astrology
sun dial
astrolabe
sextant
armillary
surveillance
corporate culture
banality
Harry Houdini (Ehrich Weiss)
18th-century illustration
natural history
Abraham Cahan
dinosaurs
blue whale
technomancy
reflective globes
shadow puppets
miniature theaters
computer games
phantasmagoria
dioramas
naturalia
mirabilia
artefacta
scientifica
antiquites
exotica
Aldrovandi
memento mori
Four Deuces (Scar Face)
reliquaries
projectors
camera
thaumatrope
zoetrope
panopticon